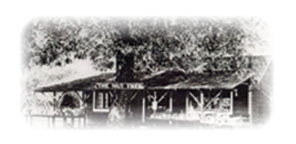 In 1921 ... when the Power Family set up a modest fruit stand along I-80 in Vacaville, who would have imagined they were starting a business that would become a driving force in retail for most of the 20th century. But so it was. The Nut Tree simply took off. In no time it was the state's first major road stop, drawing Californians in droves with its eclectic mix of western California cuisine (which some say it originated), packaged dried fruits, miniature railroad, fly-in airport, and retail offerings. It set retail trends across the nation and became an icon as it hosted events for everyone from stars and sports celebrities to dignitaries and even royalty. And its success was no accident. Beyond the Powers' uncanny business sense, the Nut Tree had something very special going for it: the perfect location.
Conveniently located along the heavily traveled corridor of Interstate 80 between San Francisco and Sacramento, the Nut Tree was literally right off the highway (according to Helen Power, "you still left two wheels on the road when you pulled up"). You simply couldn't miss it. If you were one of the millions of drivers passing by, you didn't.
Now the Nut Tree is back, and once again, it's making history with a bold new look, a unique mix of your favorite retail stores, restaurants and services, as well as the beloved and newly renovated Nut Tree Plaza, designed especially for kids. Today, just as many years ago, a visit to the Nut Tree is sure to be an enjoyable and memorable experience for the whole family!